OUR SUSTAINABILITY PHILOSOPHY
Richard Pieris Exports PLC's commitment to the 'triple bottom line' concept of People, Planet and Profits takes into consideration the impact of our operations on the economy, society and environment. This strong dedication to upholding our sustainability pledge ensures that the company's operations are carefully monitored and supervised by the Board and senior management, and ably supported by a dedicated team of employees over the last 34 years. Our status as a leading Sri Lankan Exporter has not come about by accident, but is a dream achieved purely through the dedication of the company's employees.
In order to adhere to our sustainability commitment, the company has embarked on social sustainability activities focusing on maintaining mutually beneficial relationships with employees, customers and the community. As a manufacturing organization, we monitor our entire value chain to ensure that our impact on the environment is minimized to the greatest degree. At the same time, we keep our promise to our shareholders by enhancing shareholder wealth by improving on business efficiency, productivity and profitability of the company. Our uncompromising principles of quality, value and integrity remain the bedrock of our business strategy.
---
PEOPLE
Employees
Customers are the driving force of any business, but before we satisfy our external customers, we first take care of our internal customers – our employees – who play a critical role in the success of our organization. Always being responsive to the fast-evolving business environment and increased complexity, RPE has established an empowering work culture that not only fulfills the aspirations of employees but which also develop into a dynamic, people-driven organization.
Recruitment & Retention
Our employment practices are based on attracting and retaining based on merit. We are proud of the skilled technical employees on the factory floor and along the value chain. By building mutual trust and respect between management and employees, we are able to motivate workers to deliver high productivity and enhanced efficiency to differentiate our operations.
At the recruitment stage itself, we ensure every worker is the right fit for our organization and that he or she buys into our vision to achieve excellence in manufacturing. Moreover, a collective bargaining arrangement ensures the company is totally committed to strengthen its relations with employees and is a reassuring factor for the workforce. RPE is an equal opportunity employer fully committed to achieving diverse workforce and complies with all laws and regulations regarding non-discrimination. Our open door policy empowers employees to approach senior management without apprehension, secure in the knowledge that their grievances will be resolved satisfactorily.
Graphic of age of workers
Graphic of permanent/temporary staff
Health and Safety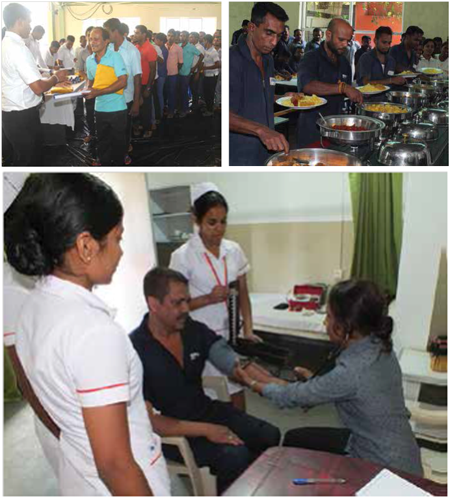 The International Labour Organization (ILO) states that work is a source of personal dignity, family stability, peace in the community and more. The enjoyment of these standards at the highest levels is a basic human right that should be accessible by each and every worker. RPE is committed to protecting the safety, health and welfare of our people engaged in our factories and offices. We have put in place measures and strategies designed to prevent, control, reduce or eliminate occupational hazards and risks.
Apart from preventing, and protecting workers from occupational risks, we feel our responsibility goes further, entailing knowledge of occupational hazards and a commitment to ensure that management processes promote safety and health at work. Training is one of the pivots on which we achieve this, with workers being adequately trained for the work that they are expected to undertake, coupled with knowledge about safety and health aspects of the work, and on ways to prevent or minimize exposure to hazards. We conduct training and information programmes on the prevention and control of hazards, and protection against risks and where necessary, have a structured procedure to deal with accidents and emergencies, including first-aid facilities. The Company Medical Officer visits our factories regularly to provide consultations and treatment.
Recruitment & Retention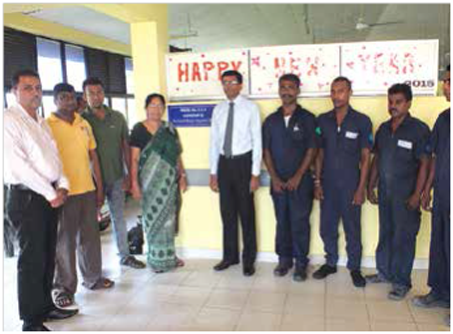 Employees are the lifeblood of our business and we believe it is important for us to appreciate their hard work and commitment on a regular basis. As result, a wide range of benefits are extended to workers to ensure they have a safety net in the form of free accommodation, meals and access to medical care. The company ensures that all the job roles within the organization are adequately rewarded and recognized. We comply with local labour statutes and ensure opportunities for skills development and sustainable livelihoods for our employees to ensure a happy workforce.
Regular training and development programmes help upgrade technical knowledge for motivating workers to enhance productivity and efficiency, while enhancing their career prospects.
The Group practices a performance-based reward and recognition scheme, after following a comprehensive employee performance evaluation to enhance performance, productivity, quality,
Tinnovativeness. This enables the Group to achieve its objectives and targets. The process begins with a predetermined set of goals, objectives and targets agreed between the team leaders and the members at the beginning of each financial year. This is followed up by subsequent periodical evaluations, resulting in very attractive rewards and benefits at the end of the financial year
Furthermore, the Group recognizes the significance of maintaining a steady balance between work and personal life of employees and organizes recreational activities to increase employee satisfaction by providing them opportunities for recreation. Recreational activities include staff outings, sporting events and festivals, cultural shows, competitions. The Company also organizes staff health camps recognizing the importance of a healthy mind and body.
---
CUSTOMERS
As the demand for quality, consistency and reliability grows, RPE strives to deliver value to customers more strategically and effectively with each passing year. We respect and provide our customers with unique quality products and speedy service, placing a strong emphasis on customer relationship management through specifically designated teams to handle key export markets. An open channel of communication between the company and customers is maintained and the fact that we have several longstanding customers reflects the satisfaction levels of our customers. The Company guarantees quality across its products and services and towards this end has acquired international quality certifications to provide the optimal level of convenience, service and value to our customers. The company practices fair and competitive trading practices and our policy is to be fair, honest and forthright in our dealings and being accessible and committed to deliver what we promise.
---
SUPPLIERS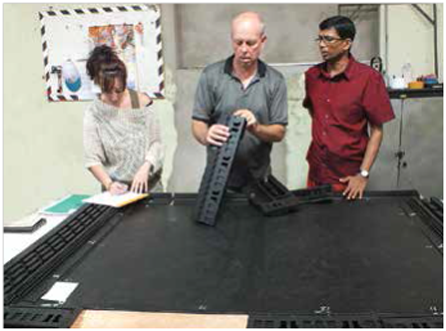 The Group look upon suppliers as business partners who are an essential link in our value chain. We believe in the 'supply chain partnering' concept to obtain the required raw material inputs and services at optimal prices from our suppliers in a mutually beneficial manner. Earning our suppliers' trust with honest communication, listening to their concerns and involving them in our processes, makes them a vested partner in our business. By being aligned with our suppliers and treating them as partners, both businesses experience higher success rates, decreased risks and enhanced collaboration and innovation. As a result, we can proudly report having created greater value for our mutual businesses.
---
CORPORATE SOCIAL RESPONSIBILITY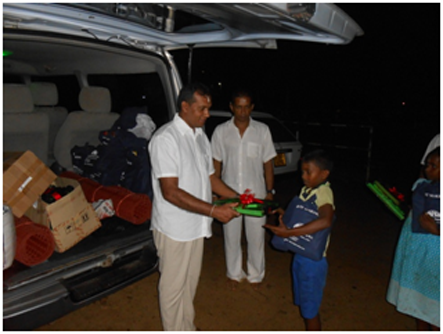 Engagement with communities, help us to understand how our business impacts their lives. Regular engagement also sheds light on how we can step in to empower communities and improve their socioeconomic standards in the long term. We believe it is our duty to ensure that our actions extend far beyond our day to day lives and continue to enrich the lives of our people in the future as well. During the period under review, the company carried out a variety of CSR projects focused around on providing the products we manufacture, free-of-charge to underprivileged sections of society such as the Donation of:
Mattresses, Pillows, Rubber Mats and other equipment to the Special Education Centre for Girls at Moratuwa in January 2017. This was followed by almsgiving for 40 Members.
Mattresses, Pillows and other Equipments to differently-abled child center at Dompe in June 2016. Under this initiative, the company handed over Latex Mattresses, Pillows, Dry foods, Mosquito nets & household equipment and held almsgiving for 20 members.
Medical Equipment to Biyagama Hospital in July 2016 along with Medical Trolleys and medical curtains. Further, the company also extends a helping hand and support to religious causes to fulfil the needs of the local community. Some of the initiatives during the year were:
With greater contribution from employees of the company, consecration of complete Buddhist library for Ven. Amithananda Thero's Temple at Dompe in November 2016. Under this initiative we undertook construction of part of the building, and donated cupboards, book racks, Buddhist books including Thripitakaya, Atuwa Granthi & Piriwana Poth Wahanse.
With greater contribution from employees of the company, Laid the foundation stone for 'Dhana Salawa' at Vidya Pradeepa Pirivena in Tissamaharamaya, in October 2016. Once complete, this new Dhana Salawa will be able to accommodate over 100 Monks in one sitting, providing relief to the needy monks residing at the temple.